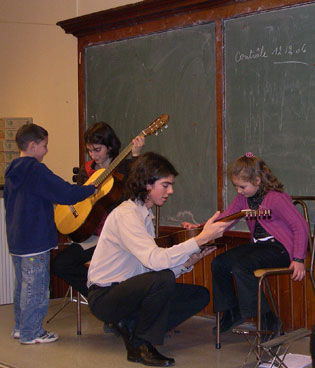 Actualités
>

Publié le 01 Sep 2018
A forest of houses, a corridor of trees
Performance – FRINGE Series – Creation
Emi Kodama, multidisciplinary artist
Claude Ledoux, composer
Ensemble LAPS, collective of musicians
Music by Claude Ledoux, Gilles Doneux, Geoffrey François, Eliott Delafosse, Jean-Pierre Deleuze, Karen Tanaka and Natsuki Nakajima.
The space of a house extends to everyday reality as well as in our imagination. Can Art Nouveau have a similar design to a Japanese house in the composition of space? Emi Kodama, multidisciplinary artist, and the composer Claude Ledoux accompanied by his LAPS ensemble, will invite the public to a performance-walk in the many rooms of The Maison Langbehn, a kind of guide to explore imaginary landscapes. The way a guide navigates the landscape and an architect creates it will guide your spirit. In this performance we will compare how the physical space completes the mental space. Emi Kodama leads this new way of visiting a house by being both a hiking guide and a landscape architect.
"A nature guide remembers his way by associating things he sees during his hike to elements of everyday life. He describes the walk in a meadow as a living room. A landscape architect designs a city garden to make you feel as if you were surrounded by nature. He plants a row of trees to block the view of a building. " (Emi Kodama)
Reservations: http://festival-artonov.eu/en/programme-2018/
Our Missions
When my youngest daughter was ten years old, the headmaster of her school sent a note to all the parents of her class inquiring if five of them would accept to teach one day over a period of five weeks in order to allow the teacher of this class to attend recycling seminaries. Since I was the only one to reply positively, I taught Camille's class one day per week for five weeks.
It was my very first experience in a primary school and I acted with this class of 27 pupils – including many immigrant children - like I would have done working at home or at my office, by having in the background appropriate music to help me in this brand new activity.
In addition to the music, I brought the children apples in a big basket. This is how our first day began together: eating an apple and talking amicably while Aldo Ciccolini was playing for us compositions by Erik Satie.
Class work went much faster and better than I thought and, on each of the five days, we had some time left for discovering more about the music.
The spontaneous feedback that I got directly from the children encouraged me to find out what the magic of music was, to understand how music can have such an influence on our mood and on our behaviour and how music can make us feel so many different kinds of emotions.
Most of the pupils offered me drawings showing that music had made them happy. My musical project probably originated from the moving words of a young Turkish boy reputed to have given a hard time to his teachers. He wrote on his drawing to me "thank you for the piano music". Such a simple and sincere message coming from an immigrant boy on discovering what we usually call "fine arts" or "classical music" gave me the will to make this discovery possible for many more children.
. From University to primary school
Teaching the guitar and being also responsible for the methodology of this instrument at the Conservatoire Royal de Mons, it has always been my wish that students acquire at an early stage not only self-confidence but also a natural sense of communication. Therefore, I established a bridge between the students of the Conservatoire and the pupils of the primary school by organizing in the school different kinds of musical events such as short guitar recitals and rhythm workshops where both parties were being taught at the same time.
After playing a guitar piece for very young children, one of my students - a young girl - told me movingly : "for the very first time in my life, I played the guitar for an audience without feeling I was being judged". Nausicaa became - a few years later -my first "follower" on the project.
© FA
Françoise-Emmanuelle Denis